The MIDEM music conference event was held last weekend. Our Soundwave co-founders Aidan Sliney and Craig Watson went along to attend the  hugely successful event! Make sure to check out Craig here speaking about the Internet of Music Things.
Also in attendance, was our very own 'Resident Hacker' Hugh Rawlinson! Hugh took part in the Midem Music Hack Day where developers had only 48hrs to create a functional music app. You can see the full list of the hacks here but Hugh shares his top five picks from the event. Read to the end and you might even get a peek at his very own music hack "Where My Music At?!"
_________________________________________________________________________
This year, I had the pleasure of attending the Music Hack Day at the MIDEM conference in Cannes. It's an event held annually by MIDEM, along with a group of volunteers and attracts hundreds of attendees in the music industry. We spent 48hours coming up with concepts for music hacks and developing them. With so many really brilliant hacks as a result, I really wanted to share some of the highlights for me…
The Drop Machine
Paul Lamere, International Executive Music Hacker at Spotify, used scrub usage data to detect the 'drop' in songs. What an awesome feat of Music Information Retrieval! Check out the video below to see the hack in action:
Rmixr
Rmixr uses the Web Audio API to provide a digital audio workstation tailored for remixing that runs entirely in a web browser! I'm proud to say I was a part of this one…
Write like Kanye
Ever wish your phone's autocorrect was a little bit more customisable? I know I do! Write like Kanye enables your auto-correct to sound more like either Kanye West, Taylor Swift, Shakespeare, or Slayer! It's powered by lyrics (or in Shakespeare's case – dialogue from plays). It's definitely very useful for those moments that you need to sound just a little bit more eloquent… You can try it out for yourself here!
Infinite Ramones
Alexandre Passant commented that all Ramones songs are generally sound quite similar… Using The EchoNest's API, he built a website that automatically mixes between Ramones songs, keeping them all in the same key and in sync. So now you can listen to one never ending Ramones song!
Festival Bag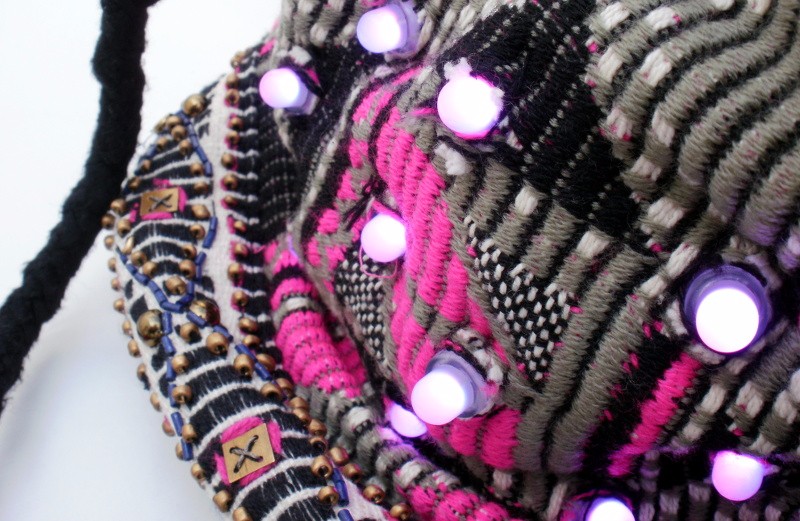 The winning hack, by Becky Stewart, was a bluetooth-enabled bag for use during music festivals! Covered in LED lights, the bag can notify you by changing colour when your smartphone has received a message. By touching the tassels on the bag, you can active record on your phone where you are at a given moment! This means that the user can look back over the festival and see which artists you were listening to. It's also a handy reminder for you to check out the artists you may have missed later.
#BestHackDayEver
Well that was an absolutely fantastic #MidemMusicHackDaypic.twitter.com/JsmZrlsIcy

— Hugh Rawlinson (@hughrawlinson) June 7, 2015
I thoroughly enjoyed MIDEM Music Hack Day. It's always fun to work on these projects with friends and see what interesting things the other hackers are doing. I can't wait for next year!
Thanks for reading. Here's my bonus hack, as promised…
Where's My Music At?
Where's My Music At is a website that shows you what music people are listening to around the world in real time using Soundwave's data!
Love this post? Please let us know on Facebook or Twitter

Be sure subscribe to Soundwave for more great blogs on music and tech events like Midem!